Beam Hela Osu Lanka is a local company operating in the indigenous medicinal products sphere for over three decades. The company recently launched a range of new medicinal products that are enriched with enhanced quality and strength. The launch took place at Matara Kumburupitiya Upali Wijeyawardene hall with the participation of renowned native doctors.
Among new products of the company are, Oxi-fresh mouthwashes, Suwoda Pas Panguwa Peyawa, Suwoda easy Tea, Iramusu Tea, Belimal Tea, Val Mee syrup and rejuvenation power drink Valpenela Amukkara syrup (with sugar and sugar free).
Mr. Bandula Rathnasiri and Mrs. Gunawathie Rubsinghe two doctors graduated from Rajagiriya Institute of Indigenous Medicine commissioned the Beam Hela Osu Lanka Company 30 years back with great dedication. The first product introduced by the company 'Beam Cream' became immensely popular among Sri Lankans and it led the duo to introduce many more herbal indigenous medicinal products.
Having knowledge in the age old medicinal secrets and adhering to requirements in the marketplace and requests made by native doctors indulging in various methods of treatments the duo subsequently introduced over 300 medicinal products. They were in the categories of Arishta, Asawa, Guli, kalka, Churna, syrup, medicinal tablets, ointments and medicinal drinks. All these products have the reputation and flavor of indigenous medicines with a strong ability to heal various ailments people suffer from.
Beam Paawatta Thal Sukiri syrup an innovation by Beam Hela Osu Lanka Company has been endorsed by local and foreign doctors and consumers as a sure remedy for cough.
Mr. Deve Ranathunga, Managing Director, Beam Hela Osu Lanka, introducing the newest array of products of the company said "It is significant that from our very first product Beam Cream, all products introduced by us becoming popular among local and foreign doctors and consumers. Demand for these products has been sustained throughout the years. Popularity of our products motivated us to add these newest products to our product range".
He added, "All our products are manufactured maintaining high standards under hygienic conditions using conventional methods as well as state-of-the-art machinery. Our research and development wing using ancient and traditional indigenous medicine scripts constantly engage in research and experiments to invent new products. We constantly upgrade standards of the products. These standards have kept our products at a high pedestal thus they are popular among Sri Lankans living in other countries too".
—–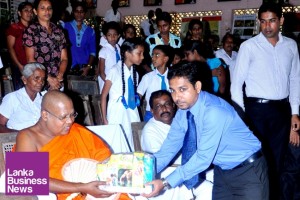 —–
Beam Hela Osu Lanka Company (www.beamhelaosulanka.lk) having its factory at Awissawella, Miriswatta is endorsed with the ISO 9001- 2008 certification for maintaining high product standards and commendable administration and the quality certificate G.M.P.